In India's Union Territory of Delhi, the Department of Training & Technical Education (DTTE) manages the affairs of the technical training courses. Both the government-run Industrial Training Institutes (ITIs) and privately-run Industrial Training Centers (ITCs) impart vocational training in a series of engineering and non-engineering trades across the varied Indian states.

The technical training centers were constituted as per the 1950s Craftsmen Scheme that was introduced by the Union Government of India. Besides, the National Council of Vocational Training (NCVT) and the State Council of Vocational Training (SCVT) at the national level and state level, respectively, were appointed to work in unison for conducting vocational training across the country.
The country's youth population who are not keen on continuing with conventional studies have the option of gaining technical know-how by enrolling at the ITIs or ITCs. With a wide choice of NCVT and SCVT trades, the aspirants can choose the ones that they are interested in.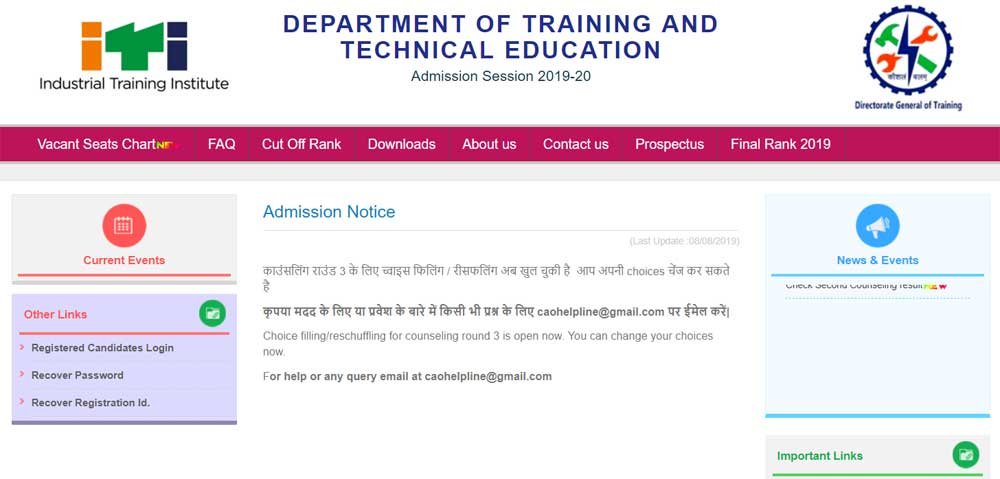 After successful completion of the NCVT or SCVT trades, the pupils are awarded the National Level Trade Certificates (NLTCs) or State Level Trade Certificates (SLTCs), respectively. Then, they can apply for employment opportunities at the national level or state level, as per the NLTCs or SLTCs they are awarded.
Delhi ITI Result – 1st, 2nd, 3rd, or 4th Sem Result
To check the exam results of the 1st, 2nd, 3rd, or 4th semesters, pertaining to the Delhi centers, the students can download their semester exam results from Delhi DTTE's official website, https://itidelhiadmissions.nic.in/publicinfo/public/home.aspx. Additionally, the NCVT's official website, https://ncvtmis.gov.in/Pages/home.aspx, uploads the examination results.
Delhi ITI Merit List
For more information on India's vocational courses, browse the site, www.itiresult.in.

  Download Android App for NCVT & SCVT ITI Result – Click Here